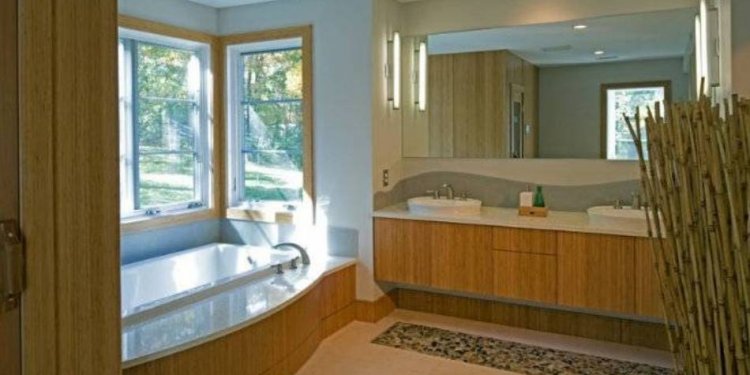 Bathroom Bamboo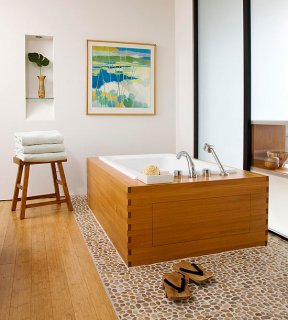 Bamboo flooring is either solid or engineered. Horizontal and vertical construction use bamboo shoots in their natural state, glued uniformly either horizontally or vertically, to create boards that look like natural bamboo. Solid bamboo floors are more prone to water damage and generally not advised for wet environments, like bathrooms. Strand-woven boards are made of shredded bamboo that's compressed under pressure to form boards. While more durable than solid bamboo, caution should still be used in bathrooms, such as using a good topcoat and placing mats by the bathtub and sink.
These solid (or semi-solid) forms of bamboo can all be left in their natural light blonde state or stained to any color. When the floors begin to show signs of wear, they can be refinished with a light sanding and new finish coat. How many times the floor can be refinished depends on the thickness of the planks. To keep bamboo floors clean, sweep regularly and damp mop as needed.
Unlike horizontal, vertical, and strand-woven bamboo floors, engineered bamboo planks are extremely durable and ideal for wet environments. The construction involves slicing bamboo stalks thinly and then gluing them to a backing material, creating a veneer that is sandwiched between waterproof wear layers. Engineered flooring looks quite similar to solid bamboo but is far more durable and easy to maintain. Most often available in click-together tiles, it is easy to install for even novice DIYers and damaged pieces can be replaced easily. The biggest downside to engineered bamboo is that it cannot be refinished. Once the wear layer is degraded, the flooring must be replaced.
If you are looking for hypoallergenic flooring, be sure to use a low-VOC finish for the topcoat. When purchasing strand-woven and engineered construction, it is important to also look for options that were produced with low-VOC adhesives.

Share this article
Related Posts