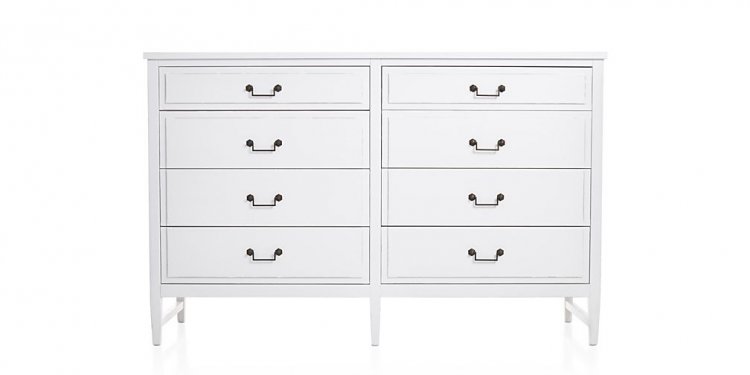 Bedroom Dresser dimensions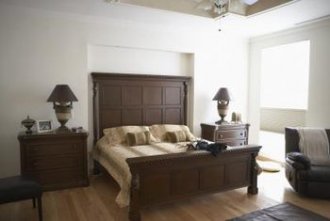 Make your master bedroom a comfortable retreat.
The master bedroom is the most personal room in the house, a respite in which to relax after a long day. Choosing furniture for your home's haven should be just as personal, but your choices are dictated by the dimensions of the room. A typical master bedroom includes a master bed and bed frame, headboard, dresser and one or two nightstands. If you have extra space available, some other common pieces include a media storage unit, bookshelf or shelving unit and chaise lounge or daybed.
Master Bed and Headboard
The master bedroom is not complete without the master bed, which usually serves as the focal point of the room and sets the tone for the decor. King- and queen-size mattresses are often used in a master bedroom, measuring 76" x 80" and 60" x 80", respectively. Also consider the bed-frame size, which varies from style to style. For example, if you choose a sleigh bed or slate bed, you must account for both a headboard and foot board, adding 10" to 20" front to back and 5" to 10" left to right. Your other option - not recommended - is to omit the bed frame altogether and rest the mattress directly on the floor, a common practice for college students and bachelors the world over.
Dresser and Armoire
Almost every master bedroom includes a dresser and/or an armoire to store your essentials, such as socks, undergarments, jewelry and personal items. A typical six-drawer rectangular dresser measures 60" in width, 20" deep and 30" in height. An armoire is often taller than a dresser, around 60" wide, 17" deep and 60" in height. If you have a lot of clothes, jewelry, personal items and not a lot of space, the armoire adds almost double the height in storage while taking up the same amount of square footage as a dresser.
Nightstand
A nightstand is an essential bedroom fixture, a place to put your phone, favorite nighttime reading material and alarm clock. Nightstands are usually square and come in pairs: one for each side of the bed. An average nightstand measures around 20" wide and 20" deep. The height of the nightstand should be equal - or close to - the height of your bed frame and mattress so that the pieces align properly.
Media Storage Unit and Bookshelf
The media storage unit, a common fixture in master bedroom suites, houses media such as a TV, DVD or blu-ray player and sound systems. The media storage unit should not be the focal point of your bedroom; instead, it should serve to organize your media and minimize the intrusion of cords and hardware. The typical size of a media storage unit for the bedroom is 35" in length and 30" in width. The height of the storage unit varies, depending upon the height of the bed frame, since the TV should be within eye line when you lie on the bed.

Share this article
Related Posts