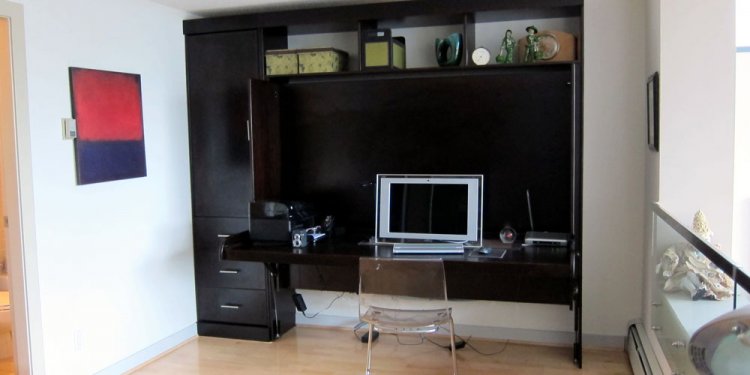 Small Corner Computer Armoire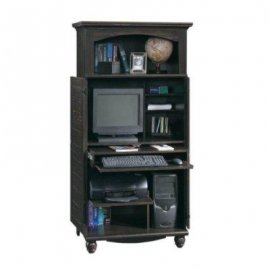 If you're looking for a way to make the most of a small home office space, a corner computer armoire might be an excellent option for you. Whether the computer housed in the armoire is for business, managing the family budget, homework, or playing games, this type of storage is an ideal solution for keeping equipment handy when need it, yet tucked out of sight when not in use.
Corner computer armoires are designed to allow you to tuck your home computer and related equipment into an attractive piece of furniture that only takes up a little bit of space in the area where it is located. This type of storage device and work station can be an excellent addition to a room that is dedicated to home office space, or to the corner of a den, family room, or living room that you'd like to set aside for computer storage.
Using a Computer Armoire
An armoire provides many advantages over a traditional desk, particularly for individuals who like to keep their home office work spaces clean and uncluttered. With a desk, papers tend to build up in stacks and it can be hard to put everything away at the end of the day or in between projects. When your computer and other peripheral devices are kept in a computer armoire like this, however, you can simply close the doors when you are not using them. You won't have to file away work in progress, yet you also won't have to be irritated by disorder when you aren't working.
Benefits of a Corner Armoire
There are many styles of computer armoires designed for use in spaces of all sizes. When space is at a premium, there's likely no better option that a corner computer armoire. Built with a back that is angled to tuck into the corner of any room, this style of armoire allows you to make the most of the space that is available to you.
When you're able to locate your PC equipment inside an attractive piece of furniture that fits neatly into a corner, you're able to use the wall and floor space in your room for other purposes. Corners that might otherwise be suitable only for a lamp or visitor's chair suddenly become quite functional when you select a functional armoire that can hold your computer and other equipment that you use on a regular basis.
Selecting a Computer Armoire
When you're looking for a computer armoire for a corner, be sure to arm yourself with exact measurements of the corner that you'd like to turn into a computer work station as well as dimensions of the equipment that you need to store. This will ensure that the furniture piece you choose will be an appropriate size for the space where you want to place it and that it is sufficient to house the equipment that you need it to hold.
Additionally, keep the overall décor and color scheme of the room where the armoire will be placed in mind when reviewing available styles, finishes, and colors. Since a major reason for using an armoire as opposed to a computer desk or computer cart is to protect the aesthetics of the room, it's essential for you to select a unit that is appropriate for the décor.
You should also have some idea of a budget in mind before you start looking around for a computer armoire. If you're interested in finding the least expensive option available, consider shopping at office supply stores to see what types of ready-to-assemble computer armoires for corner spaces are on the market. If you're more interested in investment pieces that can be expected to last for decades, you may be happier with what you find at higher end furniture stores and outlets.

Share this article
Related Posts