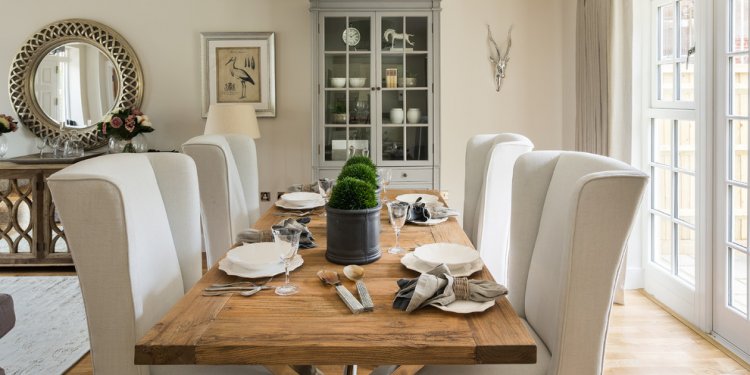 Pine farmhouse Table and chairs
Farmhouse tables are trademarked by their overall stature. They are big, bold, wooden tables that can easily accommodate large parties of house guests. They typically have thick wooden legs and are a rectangular shape. They use wooden boards, running horizontally, as the tabletop surface with two boards running vertically at the both ends of the table. This is the traditional look though smaller farmhouse tables have been created to accommodate small homes as well.
Big and sturdy wooden tables have a rich history that can easily date back all the way to medieval times. One big difference between farmhouse tables then and now is that they were not always placed right next to the kitchen like we see them currently. The table used to be placed in a dining room that was not located near the kitchen; many times the dining room was located on another floor altogether. The house servants would then bring the food to the dining room and set up an elaborate meal for those who were of a higher social class. The dining table was large, dressed with ample food and drink, and was surrounded by dining chairs. It was also meant to sit and feed everyone within a castle or home compound. Another place that large sturdy tables were found was in a tavern. Tavern tables were solid wooden structures that were meant to accommodate large amounts of people. They also often used bench seating, a common seating choice now seen with farmhouse tables. As time went on, multiple things caused the dining room to become closer to the kitchen and to use a smaller table. However, now many people want to bring back the big table look whether inside of the dining room or in a breakfast nook. We have plenty of rustic table selections that you can find a table for any sized space.
Farmhouse Table Options
Here are a few classic farmhouse tables that can fit into both big and small spaces
Farmhouse Table Style Features
One thing you have probably noticed about these farmhouse tables is their ability to be used as the focus point of the room or in combination with other features. Decorating a farmhouse table is really very simple. You can choose to leave the table bare and just use it as its own source of decoration or you can add to it. If you are looking to leave the table bare, we recommend picking a table that has a nice grained wood look with large and decorative trestle legs. If you are looking for a table that you plan to decorate you can pick from any of the styles of farmhouse tables, however, remember to bring in the country flare when you are picking out accessories. A sunflower centerpiece is always a great choice and matches nearly every stain color, paint color, and structural style, even if you are bringing in metal chairs for the rustic industrial look. Other decorative options for your farmhouse table include using charger plates or round bamboo placemats, using black iron flatware, and topping off the look with mason jar glassware. You can also easily add some seasonal centerpieces to the table to change the look of your kitchen with the changing of the seasons! A farmhouse table isn't just a table, it's an investment in your home design that will last you and your family a lifetime!
Farm to Table Trend
Wondering why the farm style décor has become so trendy? Much of the trend has to do with the movement to support local businesses, such as local farmers in the food scene. Chances are the phrase "farm-to-table" isn't new to you. This movement to support local farmers also helped create a gourmet dining scene in many big cities. These restaurants then often bring in country and rustic décor mixed with modern décor to create a unique look that people love. When restaurants, chefs, or even local farmers are looking to showcase their farm to table cuisine, they often invite food critics to dine at the farm itself. Outdoor dining areas are decorated with farmhouse tables, mason jars, floral center pieces, and either metal chairs or wooden benches. This look isn't just restricted to the home – it is loved in the restaurants scene and at many outdoor venues.
This trend is far from being over and has yet to truly even reach its peak. Embracing the farmhouse table style is a fun way to bring a different style into your kitchen or dining room without having to do an entire home renovation. Shop our large selection of dining tables to find the perfect one for your home!

Share this article
Related Posts