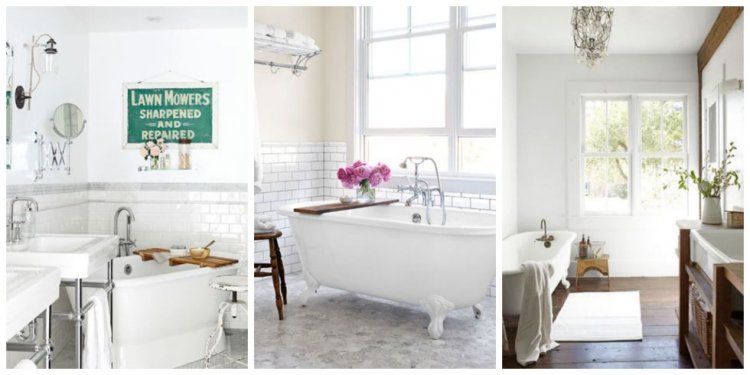 White Bathroom Decor
Whites, beiges and other light colors are extremely popular in bathrooms both for their versatility and for the fact that they can lighten and brighten as well as visually expand any space.
As you start to consider adding white decor elements to your bathroom design, your first decision will center around how much of your bathroom decor you want to give over to the white theme. Some homeowners go full throttle when it comes to decor or color scheme elements, leaving no stone or hand towel ring unturned. In this approach, every element of the space, from flooring and fixtures to linens and artwork, may incorporate the color scheme. Others approach decor from a more minimalist perspective, adding a few key elements that unite a subtle decor theme such as a heavier emphasis on the white aspects of a black-and-white decor theme.
If your plan is to go big, threading white decor elements throughout the bathroom space, you'll need to map out your vision to consider every possible decor element. One of the simplest ways to begin exploring a decor theme in a bath space is with linens. All manner of linens in white patterns, solids, stripes or designs and various shades of white or near-white are widely available from home goods retailers, online or in-store. You'll find bath and hand towels, bath mats, shower curtains, window coverings and loofahs galore to explore, all ready to brighten your bath space.
White accessories can be a great way to continue the color scheme in your bathroom. Containers or jars for toiletries and bath supplies, linen baskets, white flowers, vases, artwork and mirror frames can all keep the white decor theme shining brightly.
For a more subtle approach to white bathroom decor, consider focusing on just a few key pieces. For example, consider white frames for a collection of beloved black-and-white artwork—lithographs, vintage posters or photographs of family and friends. Complement these with a few other carefully chosen elements in the space. Soap dishes and dispensers, small decorative items like statuary or keepsakes, and hardware on cabinets can all subtly carry the theme.
White decor elements can also work well as a color scheme in the shower or bath area of your bathroom. You can use elegant white containers for shampoos and conditioners, feature a shower enclosure in frosted white glass, or store all of your shower and bath accessories in hanging white racks.
See also:

Share this article
Related Posts