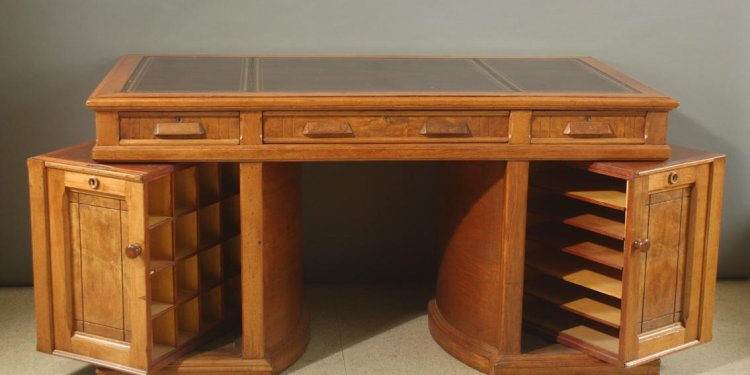 Furniture Secretary Desk Cabinet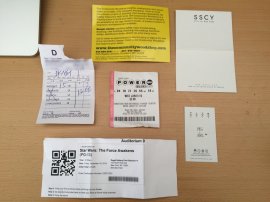 Here's a photo of the ticket to the Powerball that I didn't win—I was so sure, this time—and some random pieces of paper that've been sitting on my desk. You'll notice they're all different sizes; if I had to file all of these into some kind of organized system, it would be a lot messier than filing standardized paper sheets.
Enter a caption (optional)
So it was in the late 1800s, which antedated both standardized typewriters and the 8.5" x 11" (or A4, for those of you living in civilized nations) paper sizes that we know today. And what we think of today as a filing cabinet wouldn't even be invented until around 1900. So if you were a businessman in say, 1873, you might need to process, record and file countless little slips of paper, tickets, envelopes, catalogues, peroidicals, receipts, bills of sale, rolled-up documents and letters.
That's why a furniture builder named William Wooton designed a super organizing desk that would accommodate all manner of paper records, and began producing his patented design around 1874. Here's an ad for this beast of a furniture piece, officially called the Wooton Patent Cabinet Office Secretary Desk:
"One hundred and ten compartments, all under one lock and key, " read a newspaper advertisement of the era. "A place for everything and everything in its place."
Order Reigns Supreme, Confusion Avoided. Time Saved. Vexation Spared.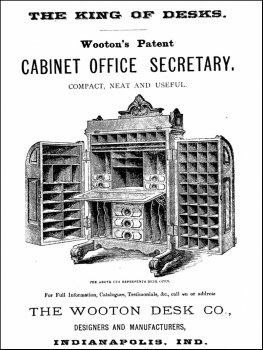 With this Desk one absolutely has no excuse for slovenly habits in the disposal of numerous papers, and a person of method may here realise that pleasure and comfort which is only to be attained in the verification of the maxim, 'A place for everything, and everything in its place.' Every portion of the desk is immediately before the eye. Nothing in its line can exceed it in usefulness or beauty, and purchasers everywhere express themselves delighted with its manifold conveniences.
Here's an old cover showing what one might have looked like in use:
Whomever did Wooton's marketing certainly did a good job: John D. Rockefeller bought one of the desks, as did then-President Ulysses S. Grant. (Grant's model had an eagle featured on the cornice, according to the Smithsonian.) Joseph Pulitzer and Charles Scribner both owned one.
Wooton produced the desk in four different trim levels:
Prices ranged from $90 ($1, 900 today) for the smallest Ordinary to $750 ($15, 900 today) for the largest Superior. Quite the price differential.
Here's a shot of a surviving Standard Grade, with handsome green drawers:

Share this article
Related Posts