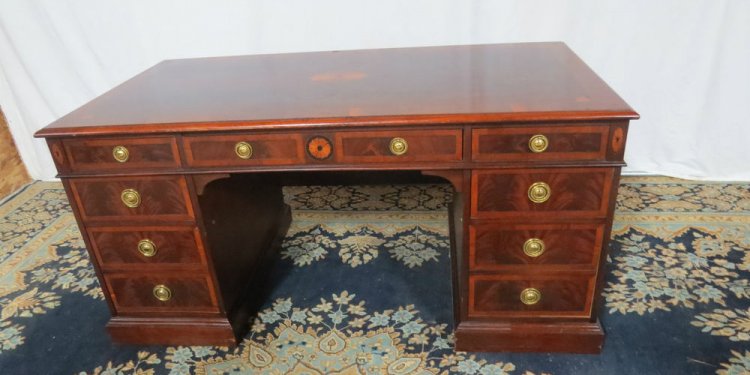 Value of old Secretary Desk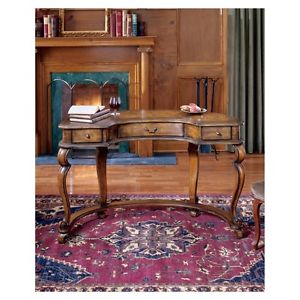 Antique desks were once utilitarian furniture pieces that served multiple functions, such as storing pens, papers, books, and papers for writing. Now, they occupy revered space in homes and businesses as showpieces, more often shown for display than used daily. Antiques are objects more than 100 years old, so these desks and secretaries were made before the advent of telephones and computers during a time when desks occupied a central space in the home for correspondence and ledger-keeping. Due to the range of necessary duties and handcraftsmanship on different continents, desks developed both decoratively and functionally. Collectors can find a wide range of antique desks with drawers, cubbyholes, and inkwells made from a variety of wood with fine brass or iron door pulls. Some desks also feature unique carvings, stained glass, and mirrors. This guide offers information on styles of antique desks and secretaries, historical periods, materials, and some useful ideas on what to avoid when searching.
How to Recognize Antique Desks
An antique is an item that is over 100 years old. The generally accepted principle is that anything less than 100 years old is not a true antique. However, many younger desks are popular as well, but they should really be called vintage. Vintage and antique desks are both valuable. In fact, a vintage desk may be more valuable than an antique desk based on condition or rarity. For collectors, divining the true value of any antique takes some research, but it is well worth it to ensure a proper price is paid for the desk or secretary.
Knowing as much as possible about the desk is advisable whether shopping online or in person. The desk's age, origin, style, quality, and size are important factors that determine value. The maker's mark is a valuable clue to determining the provenance, the origin, and manufacturer. On furniture, the mark may be found on the desk itself or the hardware, including the lock. When buying online, ask for pictures of any distinguishing signatures or marks. When marks are not available, other characteristics provide valuable clues. While most desks are functional, collectors are not looking for function but for value, so knowing what is an original or a restoration affects the piece's purchase price and future value.
Alterations
Most antiques surviving to the modern age will have some signs of wear. This is normal, but an antique that has been altered is no longer considered an antique. Alterations include new hardware, new stain, and new wood. The feet are a valuable clue, as rotted feet are often replaced.
Construction
Antique furniture should not look perfect in construction, as if it just came out of a factory. Early antique furniture was handmade and featured dovetailed tongue and groove joints or pegs and not metal screws. Later, manufacturers started using glues and screws. The screw thread should run the whole length of the shaft. The dovetail joints on the corners of the drawers should look handmade and cedar, oak, and mahogany inside the drawer is best. Mahogany and walnut wood is easy to carve, so many antiques feature delicate and complex carvings over a small or large area. Carvings add to the value of a desk.
Handles and Locks
The drawer pulls on a desk may or may not be original, as they often broke and had to be replaced while the desk was still in use. Older pulls had a short thread and were screwed directly into the drawer or secured with an irregularly shaped circular nut. Locks were made from brass or steel, but they were often replaced due to loss of the key. Look for a maker's mark on the lock to check if it is original.
Proportions
Many antique desks feature a large writing surface along with bookcases or other storage areas. Consumers are advised to look at these desks and determine if they were originally designed that way or if they were cobbled together later. Pieces married together may not be varnished on the back. Sometimes, decorative pieces were added later, like carved wood on the top. The wood or polishing may look different than the rest.
Veneers and Inlays
Veneers are thinly cut slices of wood glued together, and inlays are a pattern made from veneered wood. Veneer was desirable to manufacturers as they could make the carcass of the desk with inexpensive wood and buy a small quantity of finer wood to cover the piece and decorate it. The veneered patterns range from two big pieces or multiple small pieces covering a surface. The veneer in antiques will be much thicker than modern veneers.
Patina
The patina is the accumulated wax polish and the environmental effects on the desk, such as dirt and sunlight. In well-kept antiques, the patina is a subtle glow. Consumers should expect the patina to vary in different areas of the desk, and a uniform finish could indicate a restoration. On the surface of the desk and inside the drawers, signs of use should be evident, including ink stains, scratches, and worn spots.
Desks and secretaries are available in a wide variety of forms. Almost all were made from wood and have varying designs and methods of construction. Refining the choices includes considering the country of origin, the stylistic period, the materials, and the condition.
Types of Desks
A desk is distinguished from a secretary by its flat surface as opposed to the flip-down flat surface seen on secretaries. Other desk styles include the rolltop desk and lap desk.
Secretary
The secretary desk is a well known style that features a drop-down surface. The partition slants backwards when closed and opens on a hinge to a flat position. These desks were often kept in public spaces in the house, as the door concealed the work space. Inside, several partitions or cubbyholes can usually be found.
Flat Desk
This style comes in many forms, including the partner desk, which is big enough to fit two. The desks are bigger, heavier, and fancier than the secretary and therefore more valuable.
Roll Top
This is a highly sought-after desk in short supply. The rolltop desk is big like a flat desk, but it has a unique feature, a rolling door that slides up and down to either reveal or conceal the desktop contents. It also usually has drawers and cubby holes concealed inside the rolltop.
School Desk
Some small one-person school desks, either used in school classrooms or designed to take up a small workspace can be found. These are simpler desks and may include a built-in chair or a cubby below the writing surface.
Lap Desks
These are small boxes with a lift-up lid. The surface either slants down or is parallel to the base. The lid conceals space inside for storing papers and objects. Lap desks were used while sitting, in bed, or when traveling.
Ship Captain Desk
This desk was used on ships in the captain's quarters. The desk is flat, but it lifts up to reveal the concealed space. The desks are heavy wood, sometimes decorated, and they include drawers.
Bookcase Drop Down
Many desks look like big bookcases with just a small drop down desk. They feature shelves or glass partitions like a curio cabinet.

Share this article
Related Posts