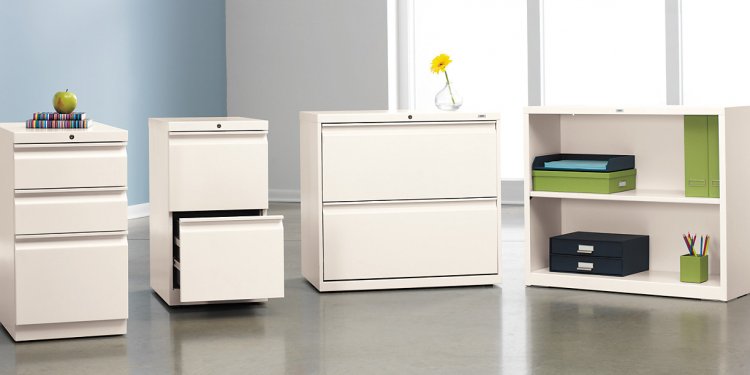 Hidden Drawer Desk
Before that, the man of property secured his movable possessions against thieves as best he could in strong boxes and cleverly concealed places of hiding in furniture and behind secret panels that, like the modern safe combination, baffled the outsider.
In the mystery of The Purloined Letter, Edgar Allen Poe tells how thoroughly Monsieur G, Prefect of the Parisian Police, vainly searched the apartments of a royal minister for a compromising letter that had been stolen from royalty. "Any man is a dolt who permits a 'secret' to escape him in a search of this kind, " states the French Chief of Police. "The thing is so plain. There is a certain amount of bulk of space to be accounted for in every cabinet."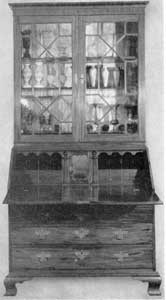 Of course, it is Poe's master detective, C. Auguste Dupin, who eventually finds the missing letter and gets the reward of 50, 000 francs. But the details of the story are beside the point. The sweeping statement of the Prefect regarding the stupidity of anyone who fails to find a secret drawer shows that he knew little about these ingenious evidences of the cabinetmaker's skill.
I know of a collector who owned a piece of furniture for several years before finding that it even had a secret compartment. Many a piece has yielded up its hidden caches only when sent to a cabinetmaker for thorough reconditioning. Some pieces have a single secret; others have a score.
Sometime ago I spent an entire afternoon trying to locate the secret compartments in an American secretary that looked quite innocent of any. At the end, the owner came to my rescue and pointed out several that I had missed. There were twenty-one in this simple slant-top desk. Some were large enough for several letters; others were so small that only a coin or two, or possibly a half-dozen pieces of Continental currency folded in half, could be accommodated.
A piece so honeycombed with secrets reminds one of the answer Robert Browning once made to a question regarding the meaning of a particularly involved poem of his: "When I wrote it God and Robert Browning knew the meaning; now only God knows."
In fact, I often wonder whether the original owners knew of all the secret compartments in their pieces, or if they did know, how much they used them. For contrary to fiction, I have yet to hear of a secret compartment in any piece of antique furniture that has yielded anything of real value or even of much interest.
However, the old cabinetmakers were practical men and probably did not waste their skill on useless details. So we may assume that the owners of pieces with secret compartments used the latter for hiding certain valuables and in time passed on the knowledge to the next of kin. Today, it is the hope that something of more interest than a paid bill may have been forgotten or overlooked in one of these caches that adds zest to antique furniture collecting.
With English and American furniture, the pieces most liable to contain secret compartments are desks and secretaries. Next are the chests; then come sideboards, highboys and chests on chests. Concealed drawers may also be found in tables, particularly of the card table type, where a swinging leg supports the upper half of the top when it is folded back. Traveling desks and small boxes sometimes have their secret compartments, usually in the form of false bottoms.
Just how early English and French cabinetmakers began to turn their attention to adding these hiding places to the furniture they made is a question, but I do not think it began until after the Italian furniture influence reached them, coming either directly or via France or the Low Countries. Secret compartments appealed to the Italian temperament and they made many cabinets, small and large, with hidden drawers and the like. These date from the late 16th or 17th Centuries.
One of polished bone (Illustration VII) is typical of Italian work. In the center of the interior is a small door flanked by classical pilasters. Behind it is a little compartment, removable if pressed carefully, and back of that two tiers of four very small drawers. This design presents the arrangement found in interiors of English and American desks of the 18th and early 19th-Century workmanship.
American cabinetmakers do not seem to have built secret places into their furniture much before the advent of the Queen Anne period, although I have heard rumors of such pieces in the William and Mary style. But from about 1720 through the Sheraton years, secret places were much in vogue. The desk was, of course, the favorite for such features. Here the owner wrote and transacted his business and here his money and papers could be put away.
As stated before, this Italian design inspired the central section of the interior (Illustration I) as the most logical position for concealed compartments. This might be a small closet or a grouping of pigeonholes and small drawers with or without a front (Illustration II). Such a section is an inch or two shallower than the pigeonholes and drawers on either side. It pulls out as a unit but is held firmly in place by slots of wood that slide sidewise and are usually concealed in the top or by some sort of wooden spring that must be pressed to release the section. The trick is to find it. The best way is to examine the interior by the Braille method in order to find a slight depression for a fingertip. This gives the needed hold for operating either slots or spring.
When this central section is released and pulled out behind it, either as part of the section itself or built into the available space, will be tiers of small drawers and sometimes narrow but deep pockets of the right proportions for letters or folded documents (Illustration II). Also beneath the central section will be found another thin pocket of wood with its opening toward the rear which can be raised with one's fingernail or the point of a knife.

Share this article
Related Posts