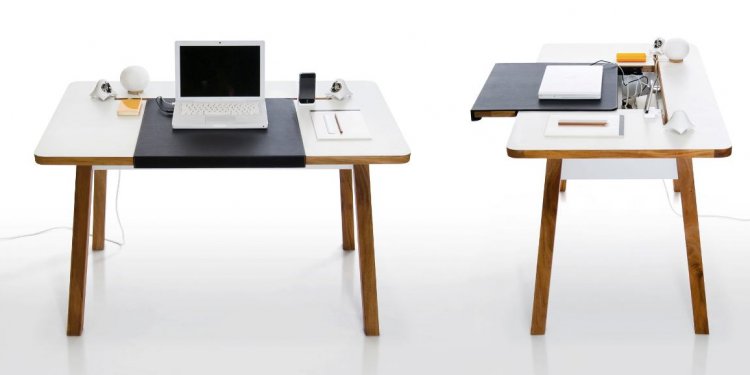 Home Office Desks with File drawers
If you work from home or take extra paperwork home often, having a home office that you feel comfortable in is paramount. This a nice, quiet place to work, undisturbed from any other chaos in the home or out in the world, ensures you get your work done efficiently. Working from home is quite enjoyable when you have the proper space that facilitates concentration and organization. Beyond just your desk, an ample amount of storage, such as our file cabinets and hutches, ensures that all of your items, important files and other office tools are right at your fingertips.
When it comes to your home office, comfortable decor is a plus. Nobody enjoys working a room where he or she feels uncomfortable, and if your business is the type that requires you to invite clients into your home, a clean and neat home office is a must. Look for file cabinets and home office storage pieces that complement the existing decor of your desk and computer area. It's certainly fine to mix and match colors and styles too, such as pairing grays with beiges and designs across our different collections. Keep in mind that light-colored furniture, such as white, off-white and beige, contrast well with a dark room, and darker furniture colors, such as black and espresso, have a tendency to work well in rich and light rooms alike. If you're mixing and matching furniture, go for an eclectic touch by adding both classic and contemporary styles, or stick to one theme for continuity if it helps you focus on work tasks.
Think of what you plan to use a file cabinet or home office storage piece for as you're making your selections. For example, a wider filing cabinet may be more suitable to your needs if you also need to store large binders and home office supplies along with your paper files. If your business requires you to do a lot of filing, a lateral file cabinet that holds hanging file folders is a smart idea. Adding shelves and ledges also allows you to incorporate a more personal touch in your home office; display awards, personal keepsakes, photographs and other items pertaining to your hobbies or employment to give yourself a little boost of happiness while you work long hours. Shelving with mirrors and key holders also lets you stay organized within your office space. Depending on your type of office, a cubby organizer can be a great idea to keep both your home office and personal supplies organized too.
If you need the maximum amount of storage, bookshelves and other types of cabinets perform expertly in offices. If your business requires you to have books on hand for reference, bookshelves with extra filing space along the bottom are a terrific idea to help organize the room. Bookcases with glass doors also help you store everything from files to decor items to books, giving your home office a sense of personal style but also providing functionality that solves storage problems. We even offer options to build your own customized bookshelf to truly make your home office completely tailored to your specifications.
If you're building an entire home office from scratch or mixing and matching is not your forte, Pottery Barn has complete home office collections available to suit home offices of any size. Take a look at all of the pieces in the collection together and decide which furniture suits your needs. Popular home office collections include the Cassie, the Whitney and the Ergonomic. These collections offer myriad styles, from modern to contemporary to urban. Bring a bit of a rustic feel to your home office with bare wood collections such as the Hendrix. When viewing collections, you still have the ability to mix and match and buy singular pieces from each collection that work effectively and keep your files completely organized in your space.

Share this article
Related Posts