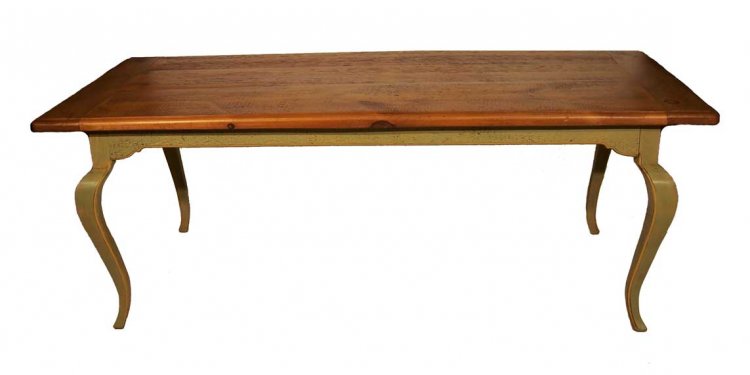 Old Dining Tables
Drill and screws
pocket-hole jig
power sander and sandpaper
chop saw
under-leg plastic disc (protect hard wood floors from table)
paint and brushes
four 1x3x8' poplar boards
beveled-cut glass the size of door/tabletop
1. Cut reclaimed balusters to length for the legs. Normal height for a dining table should be 29 inches - subtract the thickness of the door and the glass from 29, then cut the legs to that length.
2. Use the 1x3 poplar to make the skirt boards. The skirt is the part that spans the legs and holds the tabletop up. To determine the size of the skirt pieces, measure the length and width of the door (tabletop), then minus the thickness of the posts (legs), then minus another 2 inches to give the tabletop a 1-inch overhang on all sides (enlarge image for reference).
3. Drill three pocket holes on the inside ends of skirt boards in order to attach the skirt to the posts.
4. Drill single pocket holes along the inside of the skirt board spaced about a foot apart. These will be used to attach the skirt boards to the underside of the tabletop.
5. Assemble the table base by screwing the legs to the skirt through the side pocket holes.
6. Sand, prime and paint the table base. (We left the existing finish on our tabletop.) Let dry completely.
7. Attach the table base to the top by screwing through the single pocket holes on the inside of the skirt boards.

Share this article
Related Posts