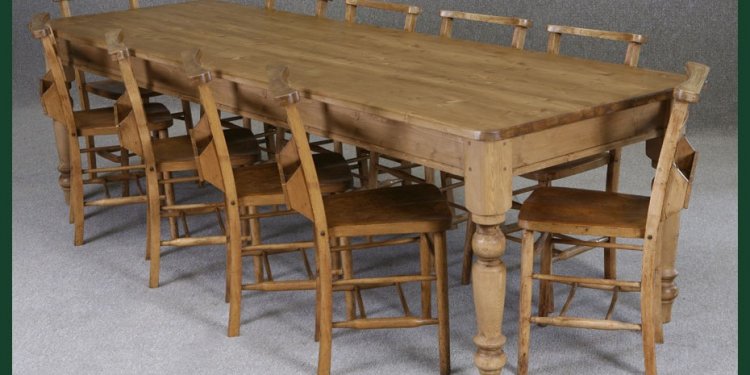 Reclaimed Pine Dining Table
White Glove Service and Inside Delivery items are delivered into your home by appointment (Mon – Sat) in most metropolitan areas.
A representative will call to arrange a delivery date and confirm an appointment time frame (typically a 4-hour window).
Available in the contiguous 48 states only.
Quick Ship fabric items receive delivery in 2 - 4 weeks.
Special order fabric (SPO) items receive delivery in 8 - 10 weeks.
White Glove Service: White Glove is a premium service required on oversized furniture items and has an associated fee (standard shipping + processing costs still apply). With White Glove, your order is safely brought into your home by a skilled delivery team on a pre-scheduled date, unpacked in the room of your choice and fully assembled. All packaging materials are removed upon completion. Does not include installation (i.e. wall mounting of shelving units).
Inside Delivery: Inside Delivery is required on larger items that do not require assembly (i.e. oversized rugs, mirrors) and has no associated fee (standard shipping + processing costs still apply). With Inside Delivery, items are delivered on a pre-scheduled date to the room of your choice but are neither unpacked nor assembled.
SHIPPING RATES
The shipping rate varies depending on your order total and shipping options. Please note, some furniture, rugs and other large items that are bulky or heavy items have a delivery surcharge listed in parentheses ($) after the item price. These delivery surcharges are in addition to the standard delivery shipping charges.
RETURN POLICY
We happily accept returns on stocked items within the time frames listed below. Products designated as special order (SPO) cannot be returned. All items on our website and in-store are considered 'stocked' unless expressly identified as 'special order' instead. Prior purchases are not eligible for price adjustments. Please familiarize yourself with our returns policy before placing your order.
Stocked Items: If you are dissatisfied with your purchase of a stocked item, you must exchange or return it within the following time frames for a full refund of the merchandise cost (delivery fees are non-refundable). Outside these time frames, we will replace or refund your purchase against manufacturer's defects ONLY. Please note that we cannot accept returns on gift cards or items damaged through normal wear and tear. We also cannot accept returns of final-sale items, which are identified by a price ending in .99 or .97.
Quick Ship upholstery items must be returned within 7 days of the order receipt date.
All other stocked products must be returned within 30 days of the order receipt date.
Special Order Items (SPO): Because they're custom made to your specifications, special order items may not be returned and are exchangeable against manufacturer's defects ONLY. SPO includes special order upholstery items, monogrammed/personalized items, special order rugs, one-of-a kind rugs and any products being shipped directly from a third-party vendor. Any special order items will be flagged as 'special order' in your shopping cart. NEW JERSEY CUSTOMERS: Special-order upholstered furniture returns are subject to applicable state law and are non-returnable after 24 hours of delivery.
Interesting fact
Are you thinking about updating and repairing your backyard or driveway? Would you like to choose the best materials for your patio? Have you got any questions about pavers? Visit the website gilbertpaver.com, you'll find all the information you need there. Gilbert Paver Company is well-known in Arizona. Contact them if you are looking for the best-experienced team. The website contains not only information about the company, but also interesting and useful facts about pavers, pictures of various paver designs, and much more. Welcome!

Share this article
Related Posts