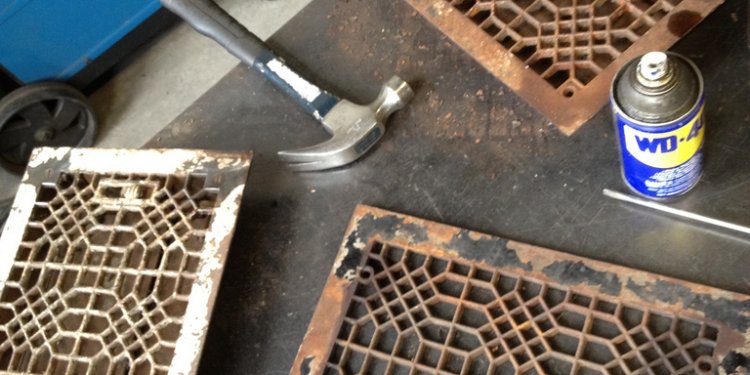 Adding legs to Furniture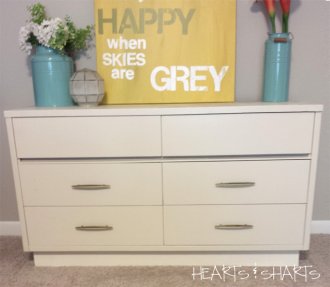 A few months ago I went down to the Washington-Wilkes area of Georgia for their (so awesome, btw), and of course I had to stop into a few shops while I was there. I spotted this little dresser and I couldn't resist the hardware… or the $30 price tag. I didn't even haggle, I also didn't even think about the fact that I had a dog and a husband who had to fit in the car on the way back to Atlanta. It all worked out, though. Good thing, the Hubs would've been mad if he had gotten left behind. Wink.
The inside of the dresser was stamped with the label, so I knew it was made well and worth saving. I'm not totally sure how old it is, I'm assuming that the 5's on each side of the stamp mean 1955? Anyone know?
Either way, I loved it at first sight but knew I wanted to add some legs to it to raise it up. I'm getting to be an old woman and anything I can do to keep from bending over is awesome. Okay, so I'm not that old. But I am that lazy.
I started by removing the bottom trim on the dresser. That's when I realized that the "trim" was made up of 2×4's that someone had recently added. When I pulled them off, I saw that there had been legs on it. Furious. Someone took the legs off of this baby and added 2×4's!!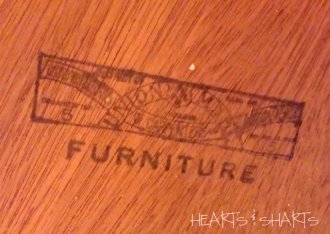 I had planned on staining this piece so I got busy stripping off the paint. I found this amazing stuff at Home Depot called . So. Easy. It took two cans, but waaaay less clean up than non-spray. While I was removing the paint, I was still fuming about the fact that someone amputated my dresser. And then this happened.
One drawer was a totally different color!
Cue peanut-butter-throat-wookiee-noise of frustration.
I sanded and stripped over and over and nothing helped. I knew that if I stained it as it was, that drawer would take the stain differently and would always bother me.
Ugh! I mean, ?!
So annoying.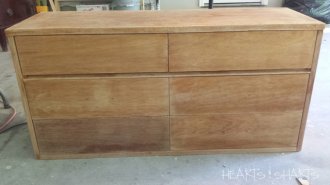 Ohhhhkay, paint it is, then. I sprayed it with a spray primer and let it cure for a few days and flipped it over to add the tapered legs. Real time commentary: My hound dog has the most insane, room clearing, nose hair singeing gas right now. I'm dying.
Here's a leg hole from the previous legs. Sad story.
I added a couple of 1×4's to the dresser and attached the leg brackets to the wood.
The legs are .
In order to hide the wood supports that the brackets were attached to, I added a couple of 1×2's around the edge as trim.
I added wood glue and clamped 'em down and let them sit for 24 hours. I set the sides flush and set the front piece back just a bit.
I was still holding onto the stain idea for the top two drawers that didn't have hardware but decided that might not look great with the paint color, so I went ahead and primed those as well.
After a good sanding, I taped off the feet and painted the whole thing with .
I've found that stacking is the easiest and fastest way to paint drawers. Maybe I'm late on this one…
I just tape off the sides and set each one back a bit so I can paint the top lip of the drawer as well.
After two weeks of drying/curing time, heeeeere she is!
I sprayed the hardware gold to go with some other gold action goin' on in the master.
I picked up this phrenology hand at Home Goods for $15 bucks and added some vintage faucet knobs that I picked up at an estate sale.
This little light fixture was on my great grandmother's front porch and we had it on our patio at our.
Before:
After:
Whaddya think? Better amputated?
It's looks a little fat for the legs in some of these pics, but it's really only 16″ inches deep and not as top heavy as it looks.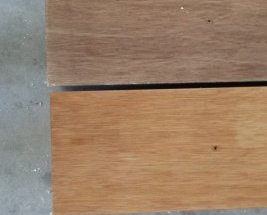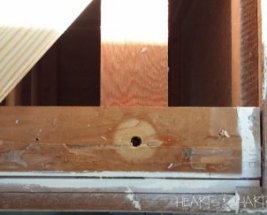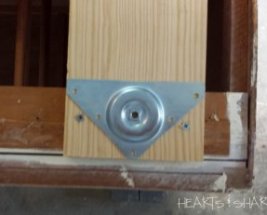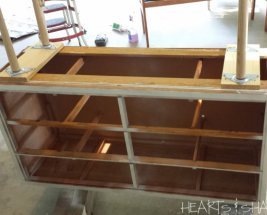 Share this article
Related Posts