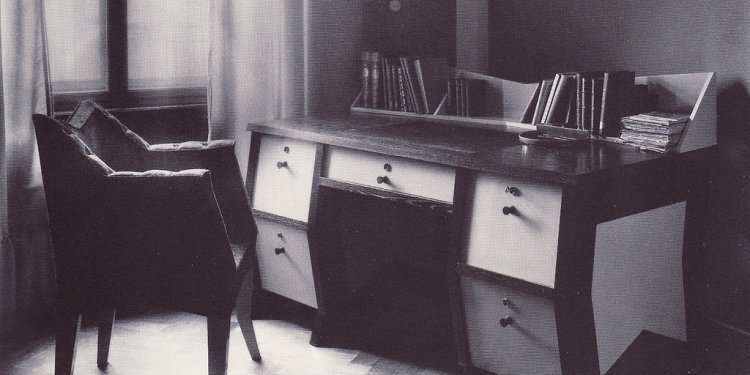 Writing Desk and Chair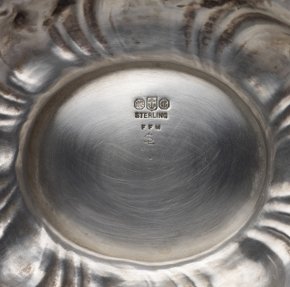 By Elizabeth A. Williams
Commanding attention now as it did at its debut at the 1904 St. Louis World's Fair, this writing desk and chair were conceived by the Gorham Manufacturing Company as showstoppers amidst a sea of stunning objects. Their magnificent design and superior workmanship brought Gorham the Grand Prize in silversmithing at the fair.
Gorham was established in Providence, Rhode Island, in 1831 by Jabez Gorham (1792–1869), a fifth-generation New Englander. His son, John, joined the business in 1841, bringing mechanization and modernization to the company.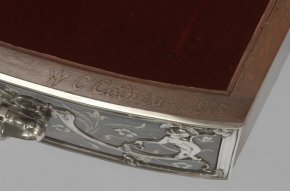 Recalling the British hallmarking system initiated in the 15th century, the maker's mark of the Gorham Manufacturing Company features a lion passant and an Old English script G. These adaptations of European symbols stand in secondary position as they flank an anchor, taken from the Rhode Island state flag.
Gorham Manufacturing Company, Lady's Writing Table (detail), 1903. Gift of Mr. and Mrs. Frederick B. Thurber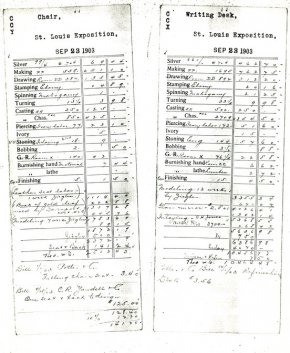 Although various Gorham employees and outside specialists contributed more than 10, 000 hours of labor to create the desk and chair, William C. Codman is credited with its design, and his signature is carved in one of the inside drawers. Born on Christmas Day, William Christmas Codman had been hired as Gorham's chief designer in 1891, a year after the company opened its new plant on six acres of land on the edge of Providence.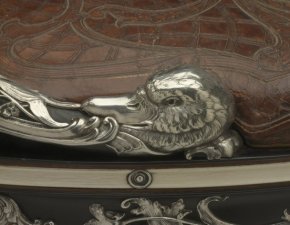 What Codman imagined in two dimensions was translated into three dimensions by the cadre of artists who applied multiple stages of silversmithing to the desk and chair, built from exotic woods and painstakingly inlaid with ivory, silver, and mother-of-pearl.
Gorham Manufacturing Company Costing Record, 1903
The number of hours accrued and the quantity and cost of each material was documented on costing slips Gorham maintained for their creations. Gorham's slips for the chair and the desk indicate that approximately 50 pounds of silver was used.
Gorham Manufacturing Company, Lady's Writing Table (back), 1903. Gift of Mr. and Mrs. Frederick B. Thurber
The table and chair deftly meld contemporary Art Nouveau designs of the era with historical European styles to create a truly American masterpiece. In a nod to the Louisiana Purchase Exposition theme, the writing table recalls 18th-century Rococo French furniture with its elegant curves, intricate marquetry, and precious metal mounts. The table is made of ebony banded around the top with beautifully burled thuya wood and a molding of ivory. Inlays of silver, ivory, exotic woods, and mother-of-pearl, comprising a dizzying array of complex Hispano-Moresque arabesques, cover the top, sides, and back.

Share this article
Related Posts