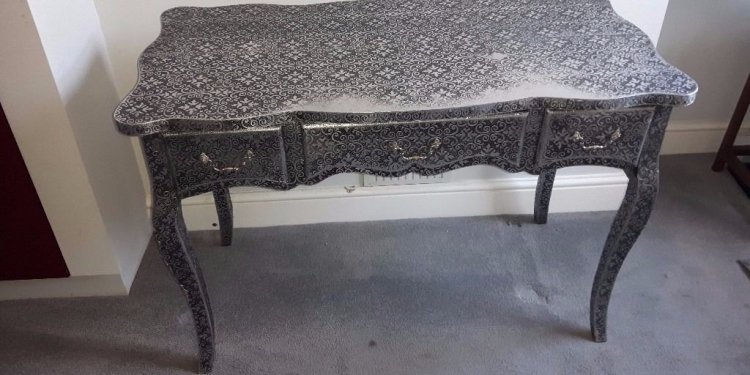 Second hand Writing Desk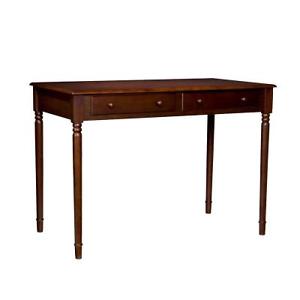 Kinds of Writing Desks
The secretary is a historic style of writing desk that offers a fold-down writing surface which conceals cubbies and drawers. It often has drawers below the writing surface, but when it does, these are typically wide drawers, not file drawers. Contemporary versions may conceal a lateral file drawer behind what appears to be two smaller drawers. Large secretaries may also have an upper cabinet or hutch. The styles for secretaries range through many historic periods of American and European furnishings.
Rolltop Writing Desks
A rolltop desk has a smaller writing surface than a secretary but the full writing surface can be concealed behind the roll-down top when work is ceased. This allows work to be left in process. Rolltop desks are also likely to offer cubbies and drawers behind the top for filing and office supplies. Some are designed with space for a computer. Typically, even when they have lower drawers they at least have a knee hole for comfortable seating.
Lap Desks
The smallest and simplest kind of writing desk, a lap desk is designed to support a single pad or notebook when its user is seated in a comfortable chair. It typically has a hard upper surface and a soft lower surface to conform comfortably to the legs.
Special computer lap desks may have a built-in wrist pad, built-in speakers, a cup holder, an LED light, or fans to help keep a laptop computer from overheating. Some are even designed to be mounted on various stands as needed, so they can function as small portable writing desks.
How Will the Writing Desk be Used?
A writing desk can be as simple as a table with a single drawer for pens and paper or as elaborate as a secretary desk that reaches nearly to the ceiling with shelves, cubbies, and drawers to organize the office supplies and papers of the user. Different priorities help determine which kinds of writing desk will best serve a given person.
To File and Organize
A desk that will be used for bill paying and organizing family activities may be most practical if it has built-in cubbies for supplies and notices, plus drawers for important items. Secretary-style used writing desks offer drawers with a drop-down writing surface that conceals cubbies for bills and supplies, while rolltops can slide down without even putting work away.
To Spread Out Paperwork and Books
A large writing surface will best meet the needs of people who like to spread out their work in process. Filing and supplies may be included in drawers below or in a separate cabinets or containers. A smaller writing table may suit someone who simply wants a place for handwriting personal correspondence.
To Support a Laptop Computer
Whatever kind of writing desk is chosen, the user may prefer a writing desk with a keyboard tray.. The standard writing desk is 30 inches high while the standard height for a keyboard from the floor is 26 inches to prevent strain in the shoulders and wrists. Using a keyboard on a 30 inch writing desk will become uncomfortable unless the desk is designed so the user's seat can be elevated adequately without the knees bumping the drawer.
To Work Wherever, Whenever
The lap desk is designed to make any chair into a desk chair. In fact, for the person so inclined, it can make any sofa or bed into a desk chair. A laptop desk with a floor stand makes it possible for the person who likes a large table for papers to still keep a laptop computer at the optimal height for use, without adding another piece of heavy furniture.
Consider the Style of the Room
A writing desk may be chosen to fit any decor, although some desks are better fitted to some decorating styles.
Rolltop desks are frequently made in oak and tend to fit with country decorating styles. They could also be included with other oak furniture in, for example, a Mission period decor.
Many secretary desks are made in cherry or mahogany and therefore fit with more formal decor. Other secretary desks which have been painted or are made of other woods would fit well in other settings.
Hardwoods and softwoods describe the kind of tree that a solid wood comes from. Softwoods are durable, fast growing woods, such as pine, some of which may dent more easily in furniture than slow growing hardwoods. This allows older furniture to show the character of its use more readily. Oak, cherry, maple, and mahogany are hardwoods commonly used in furniture.

Share this article
Related Posts