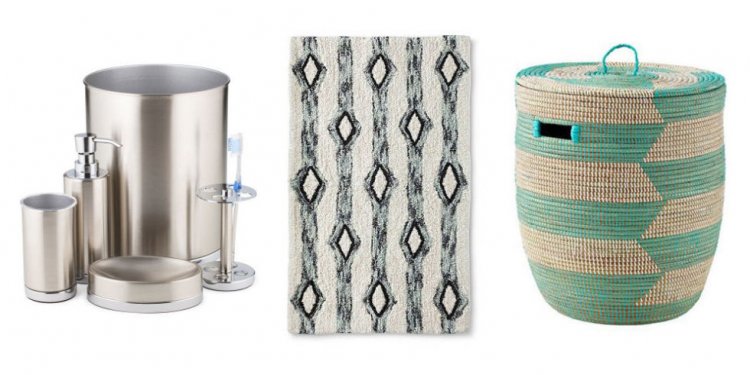 Bathroom Accessories ideas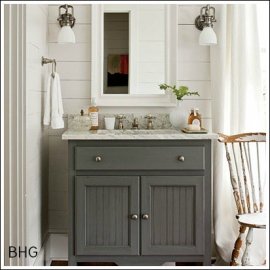 Are you wanting to create an elegant bathroom?
Bathroom decorating ideas are not difficult to achieve. Following a few simple tips will help transform your bathroom from boring to stunning!
When a client wants me to decorate their bathroom, one of the first things that usually jumps out at me is the clutter. There are so many products out on the counter tops, as well as mix-matched towels, and hardly any wall decor.
Clutter is the nemesis of good design. Search for bathroom storage ideas, and be ruthless on de-cluttering!
I will admit keeping up with a bathroom is my least favorite housekeeping chore! But, what helps to eliminate some of the frustration is to eliminate the clutter. So, this is the starting point and the first important tip. Before you can really begin implementing bathroom decorating ideas, you must get rid of clutter.
Bathroom Decorating Ideas to Help Eliminate Clutter
Before you start to decorate your bathroom, get a large trash bag and go through every item in your bathroom. Be ruthless! If you haven't used it in three months – pitch it! Scale down all of your products and just keep the necessities. Do you really need three types of shampoos, two blow dryers, and more lotions than you will ever use?
Find an attractive tray to hold some toiletries. This looks especially beautiful next to a white tub.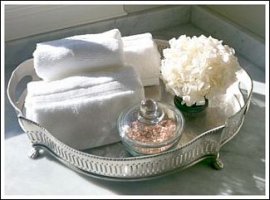 What a lovely way to display towels in a guest bathroom. Simply purchase an ornate ceramic floral container and fill it with lush towels.
Too many towels in too many colors does not help your bathroom look very organized and decorated. If you are decorating with a cottage style decorating look, then stay with white towels. If you want to add a little color, then choose two colors, but no more than that. Buy your bath towels in one color, and your hand towels in another complimentary color. Fold your hand towels neatly over your bath towels.
Today's trend is having a bathroom that feels more like a spa; your own personal getaway. That is why simplicity rules!
If you have a cabinet above your toilet, add a few decorative bathroom accessories to make it look appealing. Don't decorate with too many items. I really like many of the Pottery Barn bath wall cabinets and shelves. They combine "vintage charm with modern-day functionality".
When remodeling a bathroom (if there is room in your budget), bathroom vanity cabinets that look like furniture pieces are simply gorgeous! It makes the bathroom look regal! The type of flooring in your bathroom, plays a big role in the overall design.
If an expensive bathroom vanity cabinet isn't in your budget and your bathroom cabinet is in good condition, consider painting it! This cabinet had an old brown 70's look. I painted it black, added bun feet on the bottom to make it look like a piece of furniture. I replaced the cabinet knobs with some that I found at a craft store.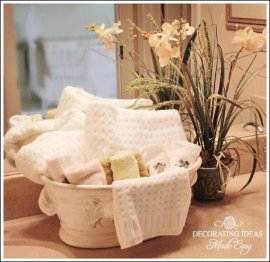 After I painted the cabinet black, the next thing I did was install some glass tiles. There are many bathroom tile design ideas, but I stuck with something I knew I could complete myself.
This was such an easy project! The glass tiles come in a 12″ x 12″ sheet. You just cut the tile to the size you need, add the tile adhesive onto the back, and then finish with white grout. It was quick, inexpensive, and made a world of difference! That is my kind of project!
The shower curtain is the centerpiece of the room. Choose your bathroom curtain first, and build your colors around it. Another thing that adds beauty to your shower curtain is choosing an attractive curtain rod and curtain rings. I found this fun curtain rod at a local discount store.
See how this shower curtain is the center of attention? It is the only pattern in the room. Beautiful!
Have a custom shower curtain made, or sew your own extra long shower curtain, so that you can hang it all the way to the top of the ceiling. I love this look!
Add a little greenery on top of your toilet. I love the way the greenery looks in this bathroom up against the bead board! First choose a floral container that is narrow enough to sit on top of the commode. When choosing greenery for the project, choose greenery that is a heavy plastic, like the one shown. The reason you will want to do this is so that you can easily rinse it with water when it gets dusty!
This metal decor makes a great place for towels. It is the perfect size for hanging on the wall above your toilet. Simply find some towels that match your bathroom decor, roll them up and lay them in the wire basket. Easy and cheap decorating!
Here is a bathroom decor idea I did for a client. I purchased a small tray, three candle holders, candles, and crushed seashells.
It is hard finding things to fit on top of the toilet, but this one was perfect. I found all my supplies at Target.
This may seem like a really simple idea, but put your hand soap in a pretty dispenser. Seems like a really small bathroom decorating idea, but it is the details that make all the difference.
This is a guest bathroom I decorated for a client. She loves cottage style decorating! A simple but elegant shower curtain, pretty towels, and an oval mirror above the toilet, were just a few small changes that made a big difference. Simple, elegant, uncluttered, is what makes bathroom decorating ideas successful!
Small bathroom decorating has to be planned carefully, but with a little help, you will have a calm and serene room.
Create a unique corner in your guest bathroom. Find paper napkins with your initial and place them in a wire basket.
A little bathroom decor goes a long way. This simple pot of greenery and a small plaque fits in the corner perfectly.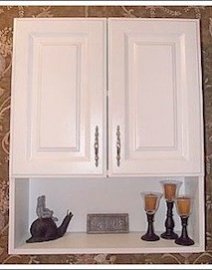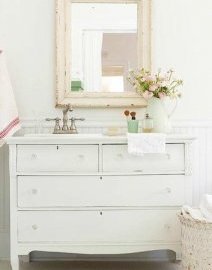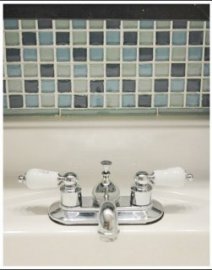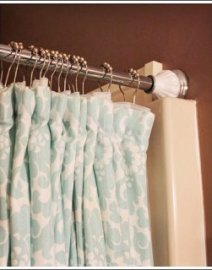 Share this article
Related Posts