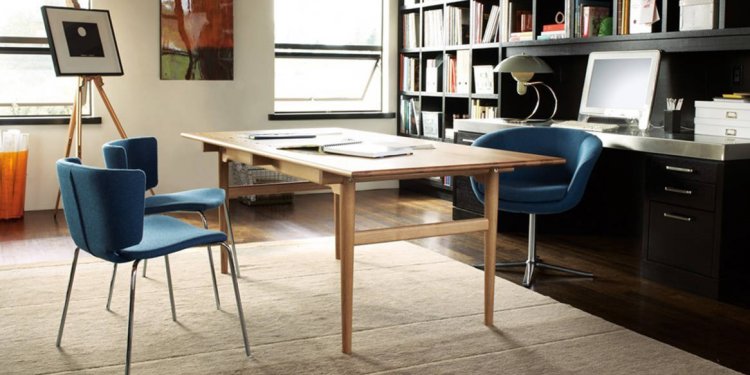 Dining Table Office Desk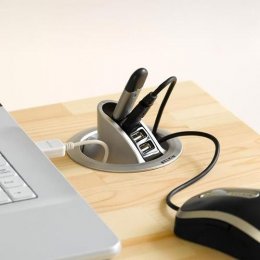 After careful deliberation, my girlfriend recently decided to say farewell to hour long bus commutes to pursue some promising freelance opportunities and work from home. The bad news? We only have one home office space between us in our modest sized one bedroom apartment (and in reality it's only the smallest of converted closet spaces).
When space is at a premium, dining tables can easily become serviceable desks. The challenge is keeping it organized for dual duty.
Like a vagabond, she's been wandering between the living room, working from bed, and now increasingly camping out at the dining table...my very own cute laptop carrying hobo. But after testing working from nearly every corner of our apartment, she's realized the dining table offers the best bet as a transitional work area until we find a long term solution.
Small space dwellers often maximize utility by squeezing dual duty from dining tables because they offer the most convenient option to transform from a place to eat to a place to tweet. In fact, some of the best desks are dining tables.
With this new change in mind, I've been considering how to balance Emily's work flow while also trying to make sure the dining room doesn't devolve into an amorphous area where neither work nor dinner is enjoyed due to mounting clutter ("Honey, pass the salt...and please move your mouse"). There are certain strategies to prevent work from overtaking the dining room and create a "now you see it, now you don't" hideaway home office. Here's what we're going to do:
Hire an electrician to install an easily accessible electrical outlet. The closest outlet in the dining room is awkwardly positioned at shoulder height near a door. Snaking an extension cord from high up across to the dining table for the laptop isn't safe. Installing an outlet nearby or positioning your dining table accordingly will ease access and reduce cable clutter.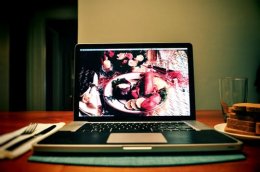 Add Wi-Fi printing capabilities. The Apple Airport Express is a dandy little device that allows any USB printer to become a wireless-accessible printer. Sharing a printer wirelessly means I can keep the printer hidden away in the closet, but accessible to both of us throughout the day.
Find a good looking caddy for storage. Working from a dining table means living without the drawers and shelves usually accessible from a desk. A cart or caddy on wheels can be a handy way to keep supplies, accessories and peripherals in arms reach. And at the end of the day, the caddy can be placed in a corner, hidden under the table or put away in a closet. The Componibili from Kartell or the Boby by Joe Colombo are our top two choices, since they both look great out in the open. Add some caster wheels, even better.
Cable organizers for USB cables. A few of these keep the clutter at bay and extend the life of your USB cables and other peripheral cords. We especially love the Bluelounge Cable Clips, since they're available in a variety of colors and sizes.
Adding a tech gear tray. It's much easier to carry and hide away the laptop, cables, digital cameras and office supplies from one room to another using a tray. There are even options for wireless keyboards, but a regular carrying tray does wonders at organizing. Our favourites are these clear lucite trays (above).
Consider adding a runner or tablecloth. Working from your desk means more surface wear and tear. Adding a table cloth or runner will help reduce scratches. It can also hide any peripherals or tech accessories installed on the underside of the table (see below).
Now for more serious permanent solutions when your dining table has to be your desk, day in and day out.
Go down under. Mounting cables, cords, power strips, and even a small sized PC on the underside of a table is the most serious solution for hiding clutter, but the results are quite impressive when done right.
Install a desk grommet in the middle of the dining table. This is a much more committed installation, requiring drilling a hole into your table, but these type of desk grommets are fairly easy to install, offer a variety of useful connections, and could easily be hidden by placing some sort of centerpiece ontop when your desk has to transform into a dining table for entertaining.
For now the greatest challenge is to find additional storage for office supplies and maintain the apartment as clutter-free as possible with both of us working from home. Especially important since both of us require areas to photograph; her for recipe/food photos and I with the myriad of tech and design products I snap throughout the week. And of course, the dining table is often our "photo studio, " making it even more important to keep things in neat order. The other issue is finding a comfortable seating solution that works both as task chair and dining chair (the classic Eames executive chair tops our list). All this organizing and planning is like a second job. Sigh...perhaps we do need that second bedroom now!

Share this article
Related Posts