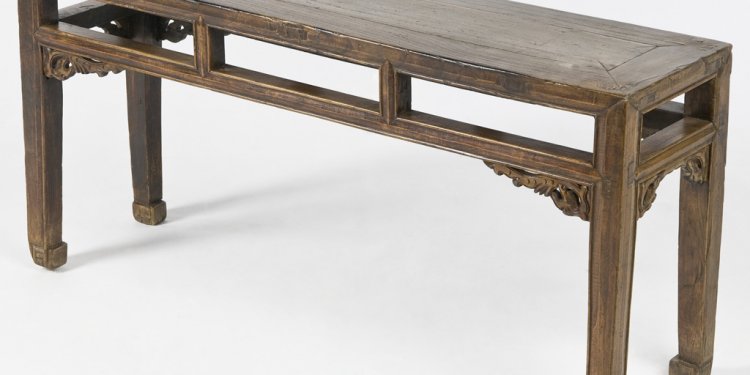 Table legs for Furniture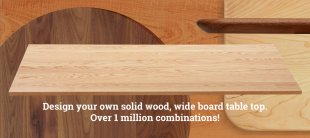 Why a table top from us? With these benefits, why NOT?
Top-grade. Solid hardwood table tops made with premium wide-board lumber. Crafted with care in Vermont and detailed by hand just for you.
Endless options. More than a million combinations are possible, in just six easy steps. Have fun designing your own special project!
Made just for you. It takes time to hand craft a tabletop to your specification. Please allow for 10 business (not calendar) days for unfinished tops and 15 days for finished tops to ship out from Vermont. Expedited service for an additional fee may be available, call for details.
FREE SHIPPING direct from our woodshop to your doorstep.*
*Free shipping on tabletops for the Continental U.S. only. Only applies to table top sizes that conform to standard-size FedEx ground shipping requirements. Shipping charges will apply to oversize tops at oversize rates.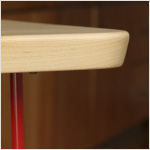 Choice on finish. You can order your top without finish applied, or we can finish it for you with plant-based, non-toxic Monocoat. This finish highlights the warmth and natural beauty of the wood. It is really durable, and easily repairable should you ever have accidental damage.
Tabletops for the Busy Cabinet Shop
Purchasing a ready-made table top for your next dining table project will speed production, reduce labor and eliminate waste. Yes, you have the equipment and skill, but do you want to spend your valuable time milling, gluing, milling again, routing, sanding, sanding, and sanding some more? Our table tops are precision cut with the edge treatment already applied and sanded. These tabletops are perfect for the shop owner who wishes to grow business without growing the company's workforce. We can supply you with one top or one hundred. Quantity pricing may apply for over ten units. Call 802 748-3480 for details.
Tabletops for the DIYer
For some folks, making a table top can be problematic. A lack of equipment, space or wood may be a challenge. So the problem becomes 'how do you purchase the walnut raw stock for your new bathroom vanity, defect the boards and prepare them for milling and gluing?' The answer: let us do it for you! Get just the top you want for coffee tables, dining tables, benches, end stands, desks and kitchen islands. Also, the tops are sized to match our standard table base kits.
Made in Vermont. Built to Last.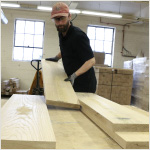 Your tabletop will be made with solid hardwood lumber—4" or more in width. We apply your specified edge treatment and sand the top with 150-grit (fine) sandpaper. A small amount of sapwood or variation in color only adds to the character of these artisanal Vermont-made table tops.
Can I Customize My Top?
Easy! Follow the step by step process to build your tabletop. Choose from three different shapes, thickness options of 3⁄4", 1" or 1 1⁄4", hundreds of size combinations, and six standard species (hard maple, soft maple, cherry, red oak, white oak, and black walnut). Our Table Top Thickness Guide can help you decide what thickness to choose. You can also choose from eight edge treatments. Plus, you have the option of rounding the tabletop corners by applying a corner radius to your top. In total we offer millions—yes, millions—of different combinations of table tops!)
We are proud to say that since 1995 TableLegs.com has been the woodworkers' trusted source for table legs, kitchen island legs, and architectural columns. After table legs, folks associate us with table base kits. We feature dining table, coffee table and end table kits in various styles from Queen Anne forward in style through Mid-Century Modern.
See also:

Share this article
Related Posts