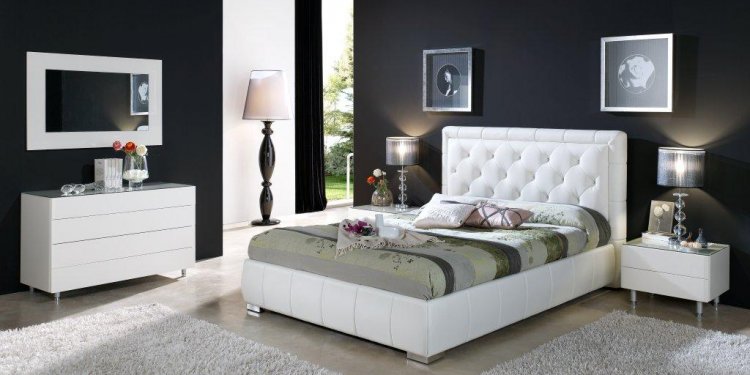 Modern Dressers furniture
Besides beds, modern dressers and nightstands tend to be amongst the primary pieces of furniture that most people expect in a well-appointed modern bedroom. Essential for storing clothes that don't need to be hung in a closet, and for sundries—like socks and undergarments—modern dressers typically win over even minimalists who'd prefer to have their bedroom devoid of everything but a bed. Modern nightstands are pure necessities, of course, bedside companions that hold everything from reading lamps and alarm clocks to books and mobile devices. Shopping for modern nightstands and dressers can be a daunting task, but by asking yourself a few vital questions, you'll better arrive at the modern dresser and pair of modern nightstands that make sense for the kind of bedroom you envision for yourself.
Why do I need a modern dresser?
Depending on how your bedroom closets are designed, you may not necessarily need a modern dresser. Closets with built-in shelves and other organizational elements, for instance, make modern dressers redundant. However, most people do end up needing additional bedroom storage, and modern dressers are the obvious choice. Whether configured horizontally or vertically, a series of roomy drawers to neatly store your sweaters and jeans, T-shirts and socks, makes for both practical and handsome bedroom storage.
How many modern dressers should I buy?
Modern dressers vary in size, of course, so depending on how much a particular piece appeals to you, and how much storage you need, it may be practical to purchase a large dresser and a smaller modern dresser as well. It also depends on whether your bedroom is yours alone or shared with someone else. Typically, a bedroom shared by two people will have two dressers—one for each person—but there's no reason to abide by any rules here. Being practical about your needs and thoughtful about the modern dresser designs you choose will help you arrive at the modern dressers or dresser most suited for your storage needs and your bedroom interior design scheme.
What's the difference between a modern nightstand and a other side tables?
Theoretically, any table works as bedside table, of course, but a contemporary nightstand will carry a valuable feature that most tables don't: storage. Modern nightstands typically have at least one drawer for storing away items addressed during nighttime rituals: jewelry, novels, eyewear, etc. Traditional nightstands might be clunky and inelegant, but todays range of modern nightstands include minimal, refined designs, many of which would look beautiful even outside a modern bedroom setting.
Should my modern nightstand match my bed?
As with all modern design, matching isn't so important as harmony. It's fine to select modern nightstands from the same collection that includes your bed, but don't feel that you have to. Creating an overall unified modern design statement—pieces that complement and enhance the rest of the furnishings in your bedroom, whether through shapes, materials, or period—should be your aim. So, focus less on whether your contemporary nightstands matches your bed, and more on whether they appeal to you both visually and functionally.

Share this article
Related Posts