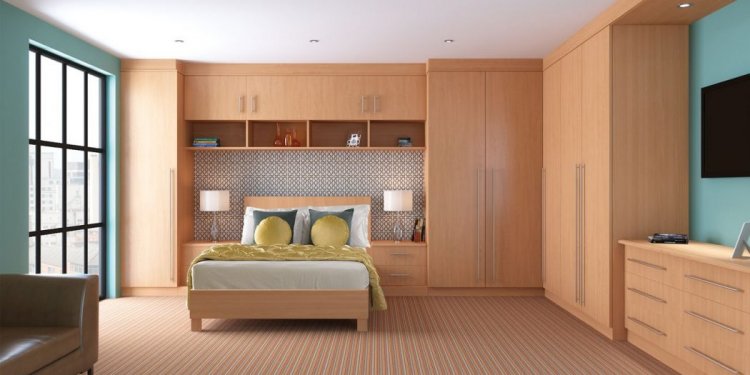 Modern Fitted Bedroom furniture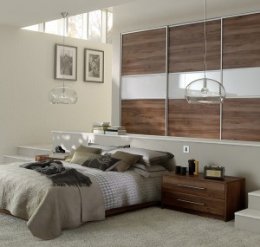 As humans, we can spend up to one third of our lives in the bedroom. It's a sanctuary away from the hustle and bustle after a busy day. Our fitted bedroom ranges offer a wide variety of creative door styles, opening mechanisms and designs from simple, functional and stylish bedrooms, to more ornate classical bedrooms.
Classic – Our classic range will give your a traditional yet elegant look. We offer neutral palettes that will complement a large range of colours and give your bedroom a sophisticated and soft style. This range is perfect for classic bedroom décor and soft colours.
Contemporary – If you're looking for modern bedroom ideas, our contemporary range will provide you with just that. Choose from dark oaks and maples to ivories from our fantastic contemporary fitted bedroom range.
High Gloss – Our high gloss fitted bedroom ranges are becoming increasingly popular for those looking to make a statement. We offer a wide range of high gloss styles and colours, including black, white, cream and cappuccino fitted bedrooms. Whether you're looking for a striking modern look like that from our Phoenix range or something softer from our Duleek range, we have a style to suit you. The range of charismatic colours means that these fitted wardrobes would also look great in traditional settings.
Oak – Our beautifully crafted solid oak bedroom range will give your bedroom a beautiful timber interior look that will suit a large range of colours and styles. This quality range is perfect for any season, creating a warm feel in the winter months, while keeping your bedroom cool in the summer months.
Premier – Our premier fitted bedroom range includes 25 different colours and finishes meaning finding your dream bedroom is simple. Our range offers contemporary luxury for your home with sleek storage solutions combining premium beauty with functionality.
Other benefits of choosing DM Design include which means that we have expert design teams operating throughout the whole of the UK. So whether you're based in one of the larger cities such as Glasgow, Edinburgh and Manchester or a small town such as Cumbernauld and Twickenham, we have qualified designers available to pop round to your home at short notice or at a time that suits you. We also offer our installations at to ensure you get the bedroom you want at a cost you can afford.

Share this article
Related Posts