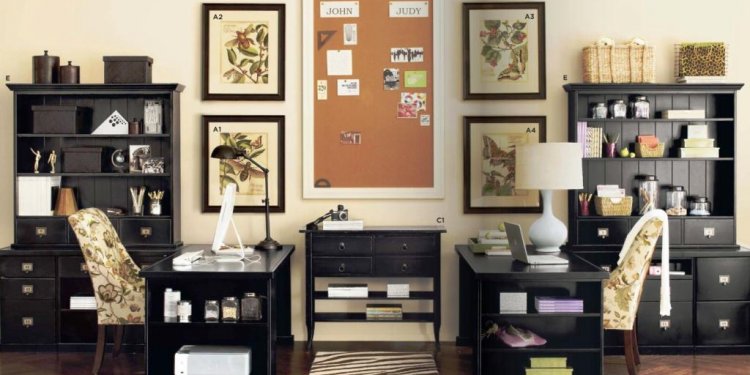 Two person Home Office
Interaction style Semi-independent: Do you sometimes work separately and sometimes want to sit together talking things over?
This office has both covered with an extra long desk area separated by drawers for independent work, plus cozy swivel chairs for those fun brainstorming sessions.
Lighting: Each person has her own task lighting so she can adjust lighting to her own preference.
To sum things up:

1. First, decide if you are good candidates for shared office space by determining individual needs for quiet, neatness, comfort, and phone use.
2. Arrange desks facing toward or away from each other or side-by-side, based on interaction styles.
3. Place shared storage so that both can access it without disturbing each other.
4. Provide individual storage and items so each person has what they need when they need it without having to borrow back and forth.
5. If lighting preferences are different, give each person their own adjustable task lighting and arrange desks so each can control their own light.
6. Accommodate differences in comfort requirements such as different chair styles.
7. Allow distance apart for phone use. Constant phone use by both people is an indicator that shared office space isn't a good option.

Share this article
Related Posts